Ted has been podcasting since 2017, primarily as producer of the group podcast, "The MultiPod," which profiles "The Puttyverse" online community. It is a multi-faceted show which features numerous simultaneous co-hosts, new guests each episode, rotating features and segments, and occasional live field recording.
The podcast has been produced on a regular bi-weekly schedule since January, 2018, with frequent additional episodes and bonus spin-offs, and recently passed the 20,000 download mark.
All of this requires complex coordination and multitasking: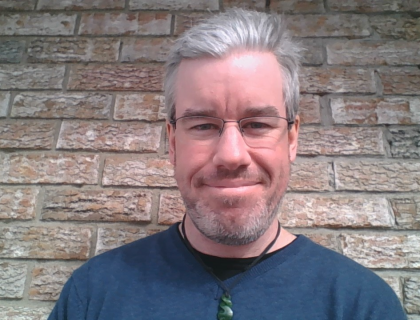 Aligning schedules amongst co-hosts

Researching topics and guests

Creating an episode outline

Recruiting and training guests about recording and microphone technique (for most of whom it is their first time on a podcast)

Ensuring a proper recording environment and sound quality on all ends
Hosting the episode, and creating a comfortable atmosphere with interesting, inspiring content

Comprehensive editing of multi-track recordings

Compression and post-production

Writing show notes, episode description and researching useful links

Tagging, publishing and distribution.
It is these skills and more that Ted puts to good use in helping fellow podcasters with their production needs.
He has a keen understanding for the volume of work and commitment required to produce a consistent, quality podcast.
Ted has been a Tour Guide and Tour Director since 2007, and a National Historic Site interpreter for Parks Canada since 2015. He has led tours in the Canadian Rockies, Vancouver, Victoria and Whistler, Toronto, Niagara Falls and Ottawa, as well as to New York, Boston, Philadelphia and Washington, DC.
Passionate about travel and exploring the world from a young age, Ted has lived abroad in the UK, Australia and New Zealand, and has travelled through Southeast Asia and India, western Europe, and much of Canada and the United States.
He spends his spare time browsing Google Earth and taking virtual tours, a modern way of still capturing that essence of travel and discovery.
Ted lives with his wife Emilie and kids Dahlia and Hugo in Québec, Canada, surrounded by maps, books, and inspiration.
Visiting the Great Buddha of Thailand, at Wat Muang temple in Ang Thong province, about 100 km north of Bangkok.
It is now the 9th tallest statue in the world, 92m/300 ft high.